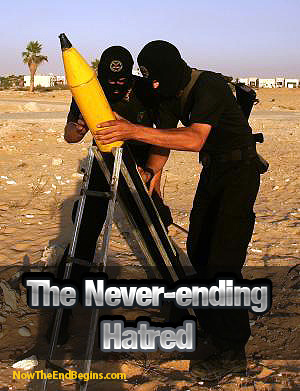 Palestinians Fire Rockets Into Israel on Day After Terror Attacks
By Anshel Pfeffer (Haaretz)
Published August 19, 2011
Less than a day after coordinated terror attacks killed eight Israelis, Palestinian attacks on Israel continue as 10 Grad and Qasasm rockets were fired Friday morning at Ashkelon, Be'er Sheva and Kiryat Gat.
Most of the rockets fell in open areas and did not cause damage or injuries, but one of the missiles hit a building in an Ashdod industrial park,

wounding six people, one of them seriously.

Three Qassam rockets were shot at the western Negev communities overnight. Emergency sirens were sounded, but no injuries or damage were reported.
Large contingents of police forces arrived at the scene of the rocket attacks and are on alert for additional missiles. Residents are called to remain in close proximity to bomb shelters.
The Palestinian rocket fire followed an IAF attack on the Gaza Strip overnight which came in response to the coordinated terror attacks on Israel that took place on Thursday afternoon.
An IDF Spokesperson reported that the targets included two terror activity sites and a weapons storage unit in north Gaza, and two smuggling tunnels and a terror activity site in south Gaza.
For mrore, see
_______________: [Haaretz.com(http://www.haaretz.com/news/diplomacy-defense/10-rockets-strike-israel-day-after-coordinated-terror-attacks-kill-8-1.379518)]


NOTE:
Has news from Israel been shut down here in the States? Just wondering, since those following Middle East news are aware that Israel has been under fire since yesterday afternoon and I have heard on our MSM, one brief report of these terrorist attacks targeting Israel - one, on Fox News, mid-afternoon, yesterday.

Where's the condemnation from world leaders about these terrorist attacks on innocent Israeli citizens? Someone? Anyone?!

The West must have great confidence that Israel will handle these attacks without so much as a nod of compassion from our own leaders in Washington, or Washington has become deaf, dumb and blind to the constant, on-going war against our ally Israel from Israel's Arab neighbors.
I cannot imagine living under such pressure - never knowing when a missile will hit my home; or terrorist sneaking into my home in the middle of the night to murder my family; and never will comprehend the emotional stress of young children having to run to bomb shelters with every red alert sounding from nearby sirens. This is no way to live peacefully, in your own country and within the walls of your home! But this is how Israelis are expected to live, daily - without a peep from world leaders who profess to care about "humanity and human rights"! Shame on everyone who ignores the plight and suffering of its friends AND allies.